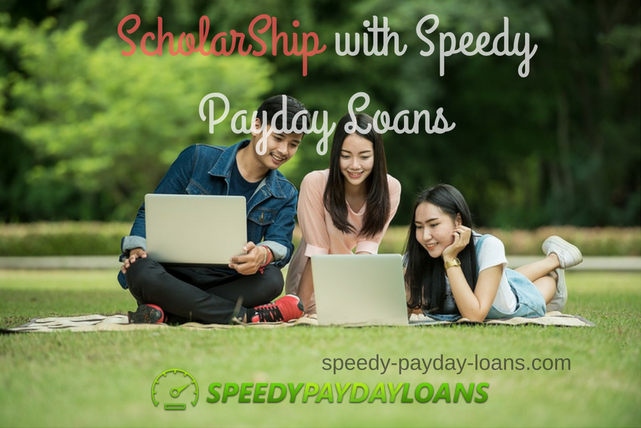 Scholarship Description
Start Date:
01/31/2018
Deadline:
01/31/2019
Amount:
$1 000
Description:
Speedy Payday Loans offers students an opportunity to get scholarship if they cope with the interesting task. Scholarship is an attractive opportunity for students to get some kind of grant or startup to achieve goals stated to improve way of living.
This grant is not high but may become a great way to start realizing goals right now. Speedy Payday Loans is an organization which may help students who have a desire be professionals and skilled persons in financial sphere. Students will feel encouragement and see that everything may be achieved if you do your best and take all the efforts.
Contact Information
E-mail: support@speedy-payday-loans.com
Eligibility
Gender: No matter
Min GPA: 2.50
Min Age: 18
Eligibility:
This scholarship is available for students trying to achieve the following degrees: AA, AS, BA, BS, MA, MS, MFA, PhD, MD, JD in financial discipline.
Minimum 2.5 GPA.
Must be a U.S.
Citizen or Permanent Legal Resident of the United States.
Must complete and sign Application Form and submit all supporting documentation by the deadline dates and times.
Must submit a written essay pursuant to the established guidelines and deadline dates and times.
Special Criteria:
All applicant submissions must be received by the deadline date;
Finalists will be selected within two weeks following the due date;
The winner's name and essay will be posted on its website, blog and social media pages within one week following the finalists submission date.
Extended list of official rules is given here – https://speedy-payday-loans.com/rules-of-essay-submissions.html.
Essay Topic and Requirements
Essays must be submitted with a completed and signed Application with required documentation by the due dates and times;
Essays must be 1,000–2,500 words and submitted via email to support@speedy-payday-loans.com in Word format;
Essay topic is "How Effectively Save Money";
Each Applicant is limited to one submission per contest.